*lab picture*
Cheng lab
Welcome to our lab! We are always looking for highly motivated graduate students and postdocs from diverse backgrounds to join our lab. Please see our research page to learn more about what we do and what we are interested in.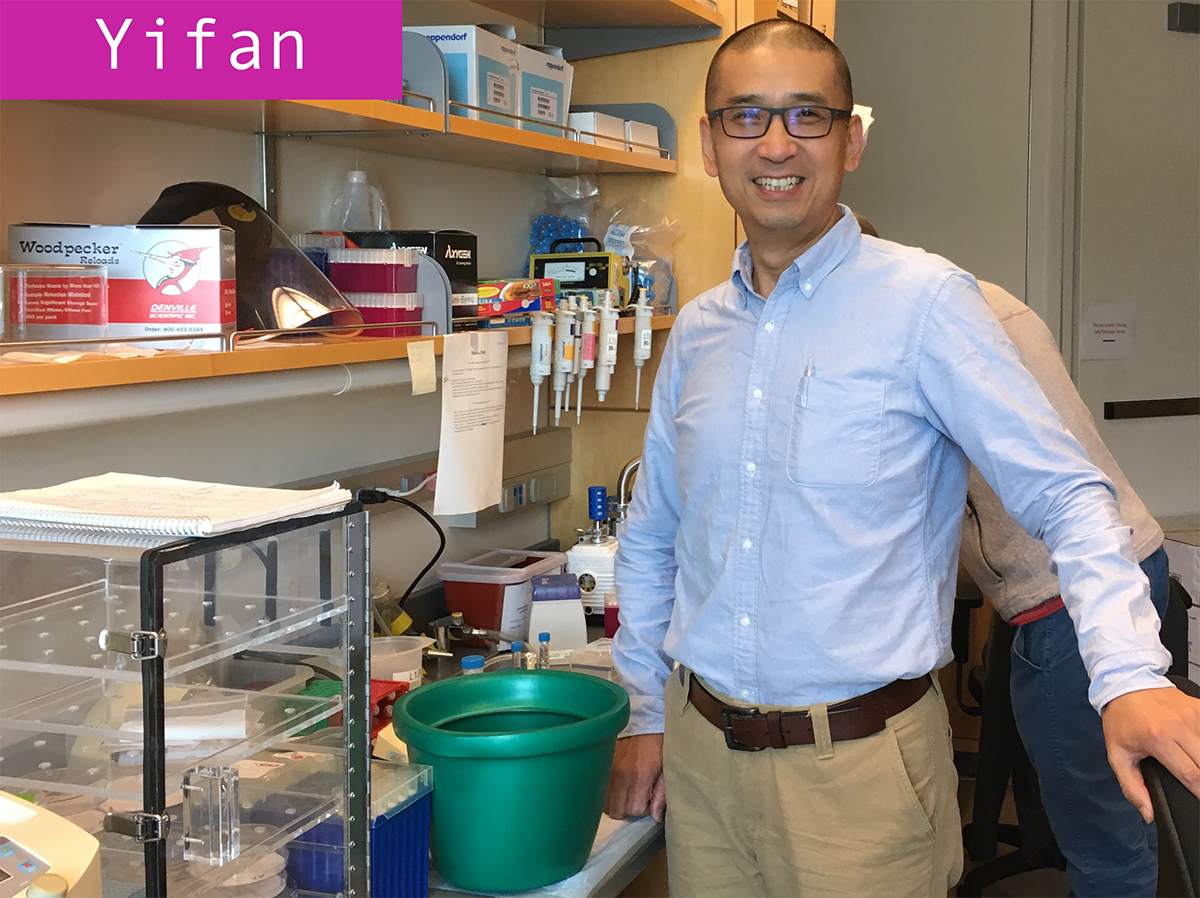 Professor, Biochemistry and Biophysics
Yifan is a biophysicist and structural biologist. He was born and grew up in China, entered college in 1978 after the ending of the "culture revolution". As an undergraduate, he studied solid state physics at Wuhan University. In 1991, he received his Ph.D. degree in physics from Institute of Physics, Chinese Academy of Sciences. He continued his research in solid state physics and electron microscopy for five years as a postdoctoral fellow at the University of Oslo and Max-Planck-Institute of Metal Research. In 1996, he changed his research direction to structural biology, and received further training in cryo-electron microscopy (cryo-EM) from Professors Kenneth Taylor at Florida State University and Yoshinori Fujiyoshi at Kyoto University. In 1999, he joined the lab of Thomas Walz to setup a cryo-EM operation at Harvard Medical School. He joined the faculty of UCSF in 2006. Pioneering works of his lab in cryo-EM methodology and membrane protein structural biology facilitated the "resolution revolution" of single particle cryo-EM. He has been an HHMI Investigator since 2015. He is also the recipient of the Christian B. Anfinsen Award from The Protein Society (2018). He was elected to the American Academy of Arts and Science in 2019 and the National Academy of Sciences in 2020.
Students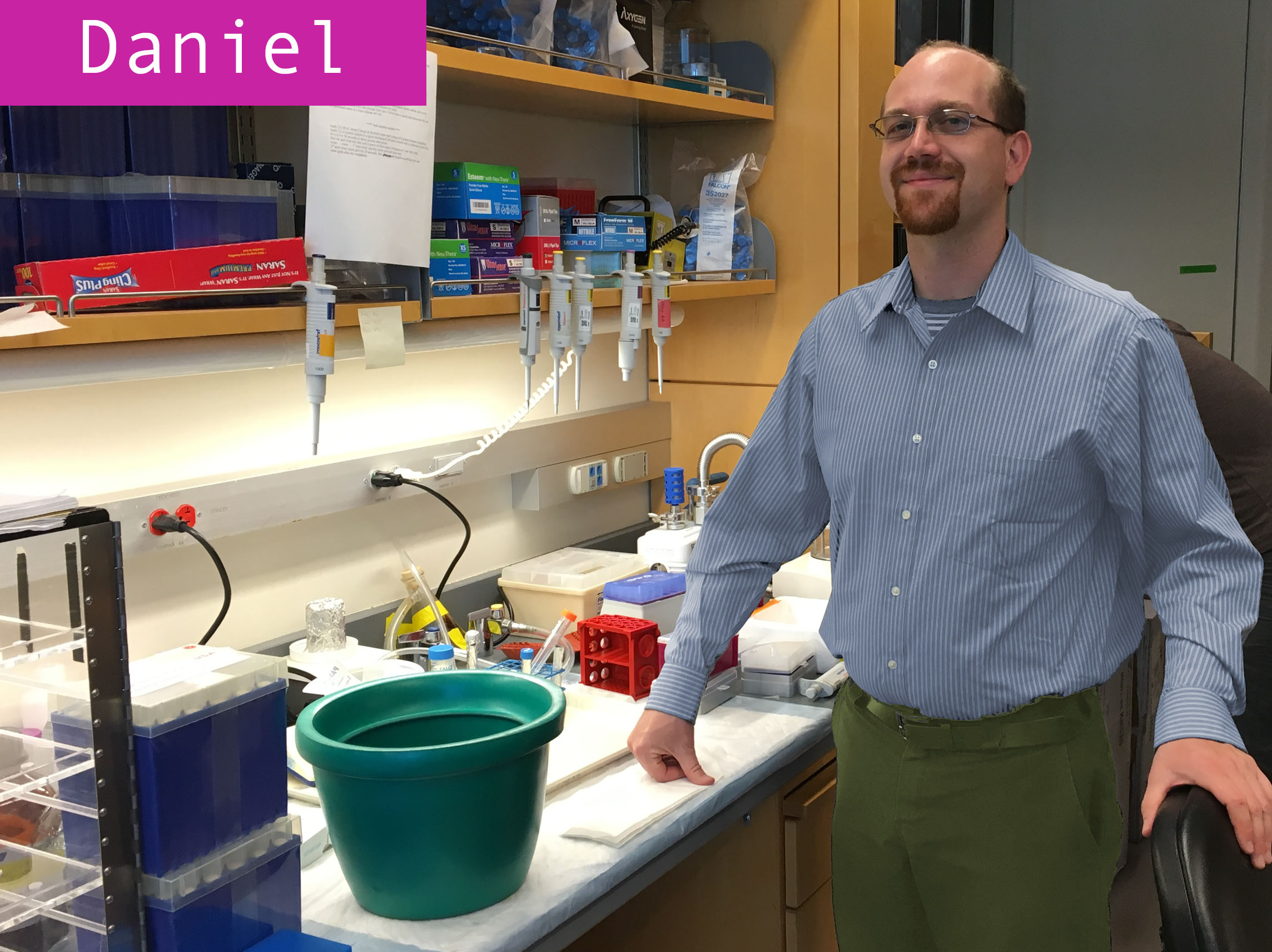 Daniel Asarnow
Graudate Student, Biophysics
Daniel background 
Daniel research interest
Contact
Bryan earned his bachelor's degree from the University of California, Davis in 2013 and went on to work in the biotech/pharmaceutical industry for 5 years following that. He spent time at Genentech as a protein chemistry research associate and as a Scientist at Abbvie/Stemcentrx in the Biophysics group of the Antibody Discovery division. There, he developed kinetic assays to determine species cross-reactivities for target proteins, and introduced methods for improved native immunogen generation. 
At UCSF, he is co-advised by Yifan Cheng and Aashish Manglik where he is using cryo-EM to determine the structural basis of nociception, metabolism, and signaling selectivity of G protein-coupled receptors.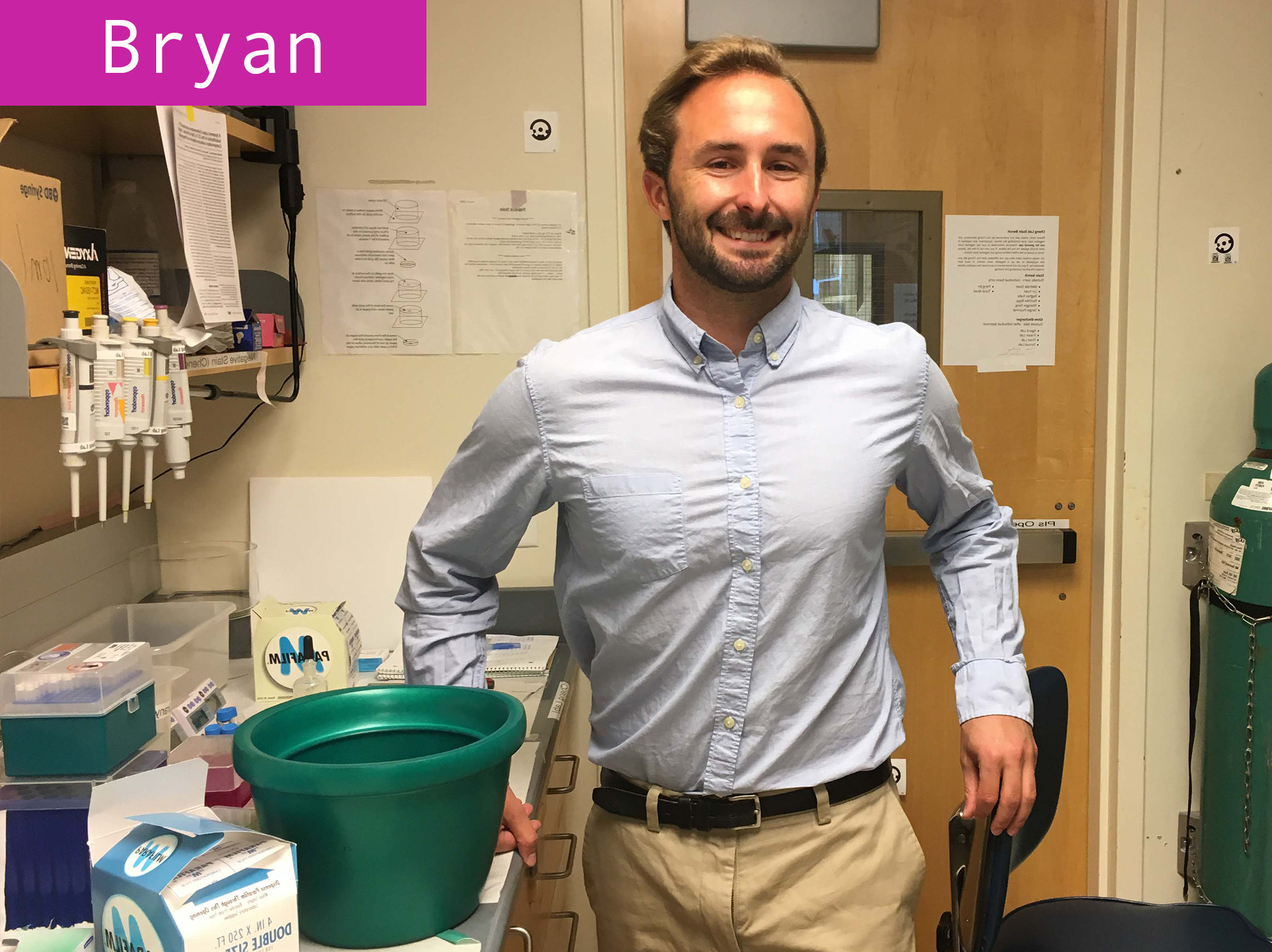 Bryan Faust
Graduate Student, Biophysics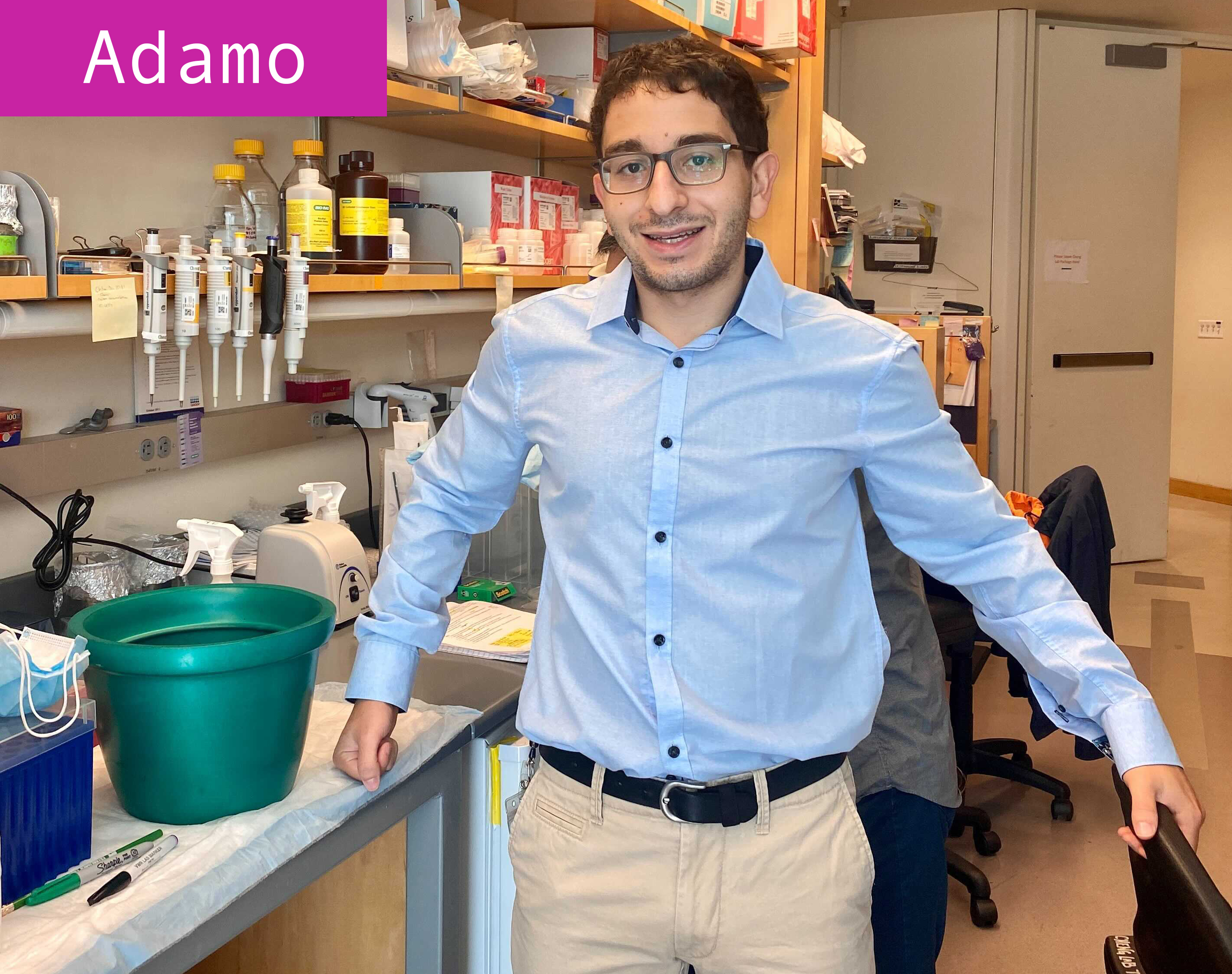 Adamo Mancino
Graduate Student, Biophysics
Adamo completed his undergraduate studies in Neuroscience at McGill University in 2016. It was there that he grew fascinated by the concept of cellular excitability, and resolved to study the molecular mechanisms by which cells fire in response to cues in their environment. Accordingly, Adamo earned his master's degree in Neuroscience at McGill University in 2019, where his thesis work focused on characterizing voltage-gated sodium channel behaviour by electrophysiology. In his next steps, still motivated to answer questions of structure-function basis, Adamo wanted to build on his functional skillset and sought out training in structural biology.
Adamo is a joint PhD student in the labs of Dr. Yifan Cheng and Dr. David Julius. Adamo seeks to use single-particle cryo-EM to understand the structural mechanisms by which ion channels in the somatosensory system respond to a variety of stimuli in the outside world.
Marcell graduated from UC Berkeley in 2014, studied molecular and cell biology with a neurobiology emphasis, and worked with Kristin Scott to study the neural correlates of taste in drosophila. Post graduation, he joined the Hematology group at Bayer and designed chimeric antibody drugs to treat non-malignant bleeding disorders. He then joined Charly Craik's lab at UCSF as a technician and used phage display to isolate antibodies to facilitate structural and functional studies of soluble and membrane proteins. Furthermore, he established a lasting collaboration with Corie Ralston at the Advanced Light Source to perform X-ray footprinting (XF) to characterize macromolecular dynamics.
Marcell collaborates with Koli Basu in the Craik lab to structurally characterize the ion transporter KCC2 and reveal its mode of action. He is interested in catalyzing more XF projects at UCSF and using the technique as a complement to cryo-EM structure determination.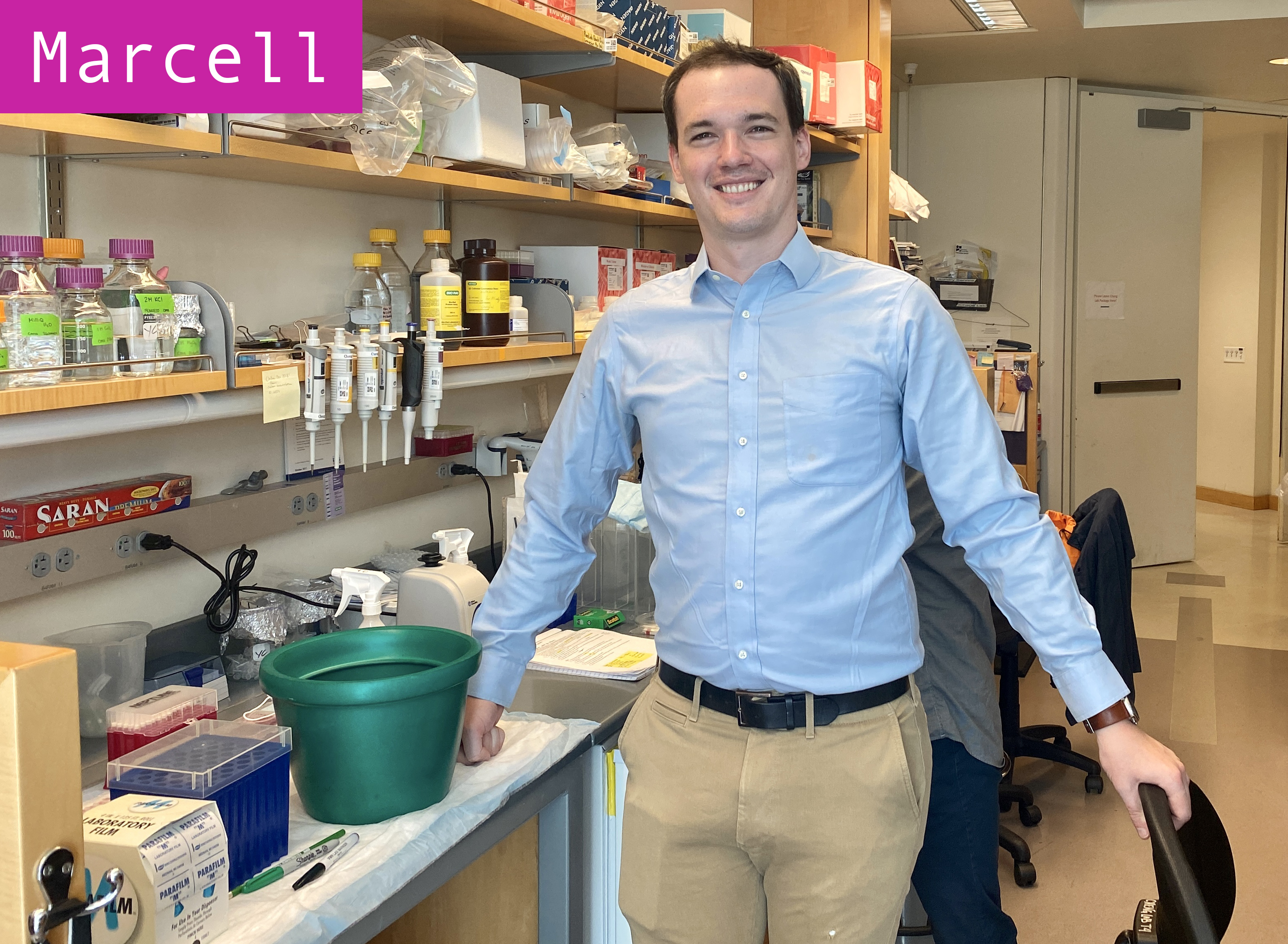 Marcell Zimanyi 
Graduate Student, Chemistry and Chemical Biology
Postdocs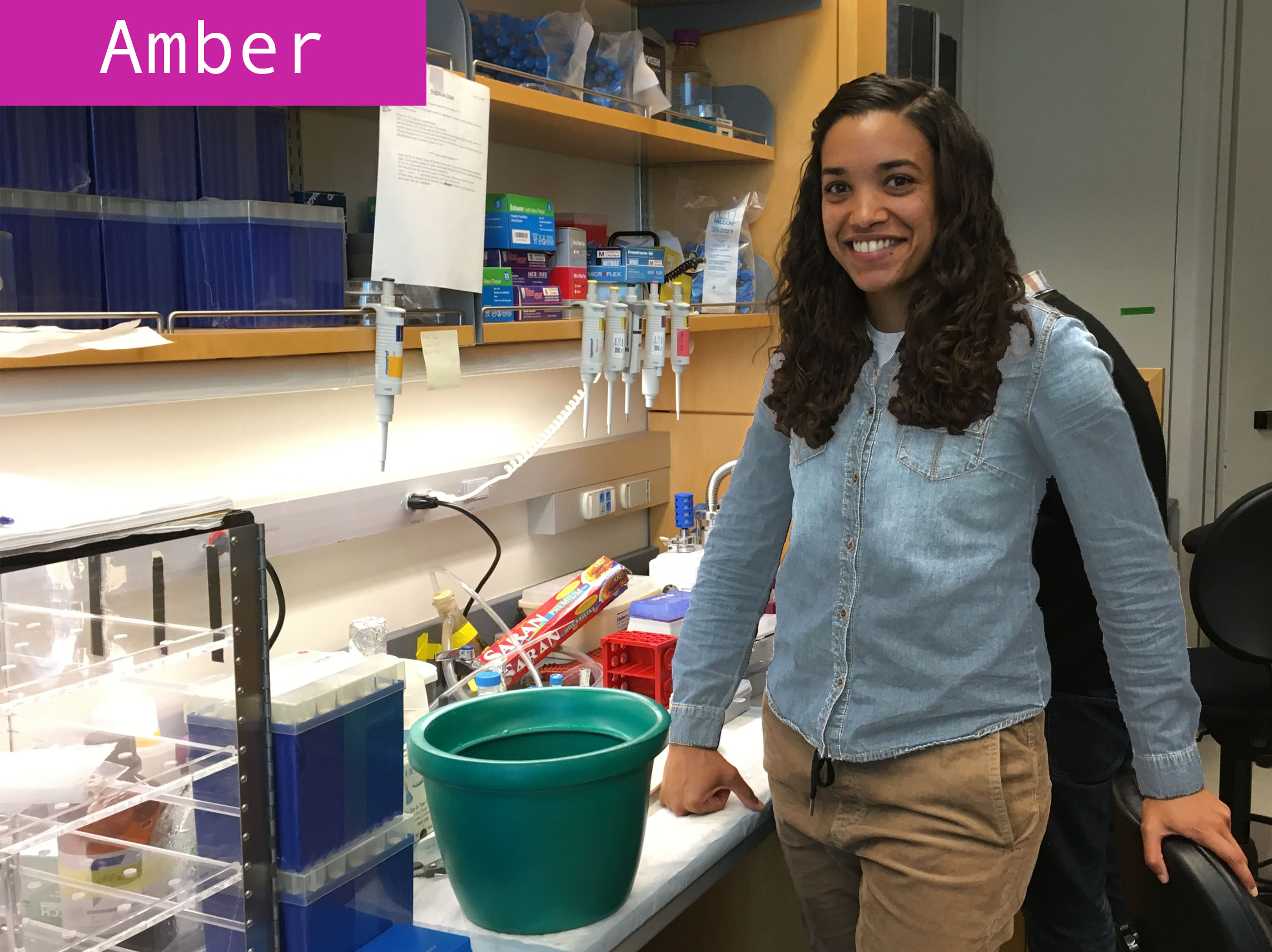 Amber Smith, Ph.D.
Postdoc, Biochemistry and Biophysics
Amber earned her Bachelor of Science degree from the University of California, Santa Cruz in 2008. After graduation she went on to pursue her Ph.D. from the University of Michigan, Ann Arbor. There her graduate mentor Janet L. Smith cultivated her passion for structural biology through the utilization of X-ray crystallography. She focused on the protein family of glutamine amidotransferases to understand how multi-domain protein complexes alter their structure to regulate the chemistry that occurs between distinct active sites.
Amber's post-doctoral research focuses on the structural requirements that regulate protein-nucleic acid complexes in the context of viral replication and infection, specifically those comprised of host and viral components. Her current model system is that from HIV, comprised of the HIV viral protein Rev, which binds to the viral RNA transcript and recruits the host proteins Crm1 and Ran. This complex is critical for HIV replication and infection.
Supported by a National Institute of Health F32 Postdoctoral Fellowship 
Jianhua hails from the north and studied with John Rubinstein at The Hospital for Sick Children in Toronto. He used single particle cryo-EM to visualize rotary ATPases during his PhD. In his spare time, Jianhua enjoys reading interesting things like books.
Jianhua is interested in complex biological systems. During his postdoc, he teamed up with John King and Candice Paulsen from David Julius' group to study chemosensation via the wasabi receptor. In the future, he aims to broaden our understanding of protein function and regulation within the cell environment.
Supported by Banting and American Heart Association postdoctoral fellowships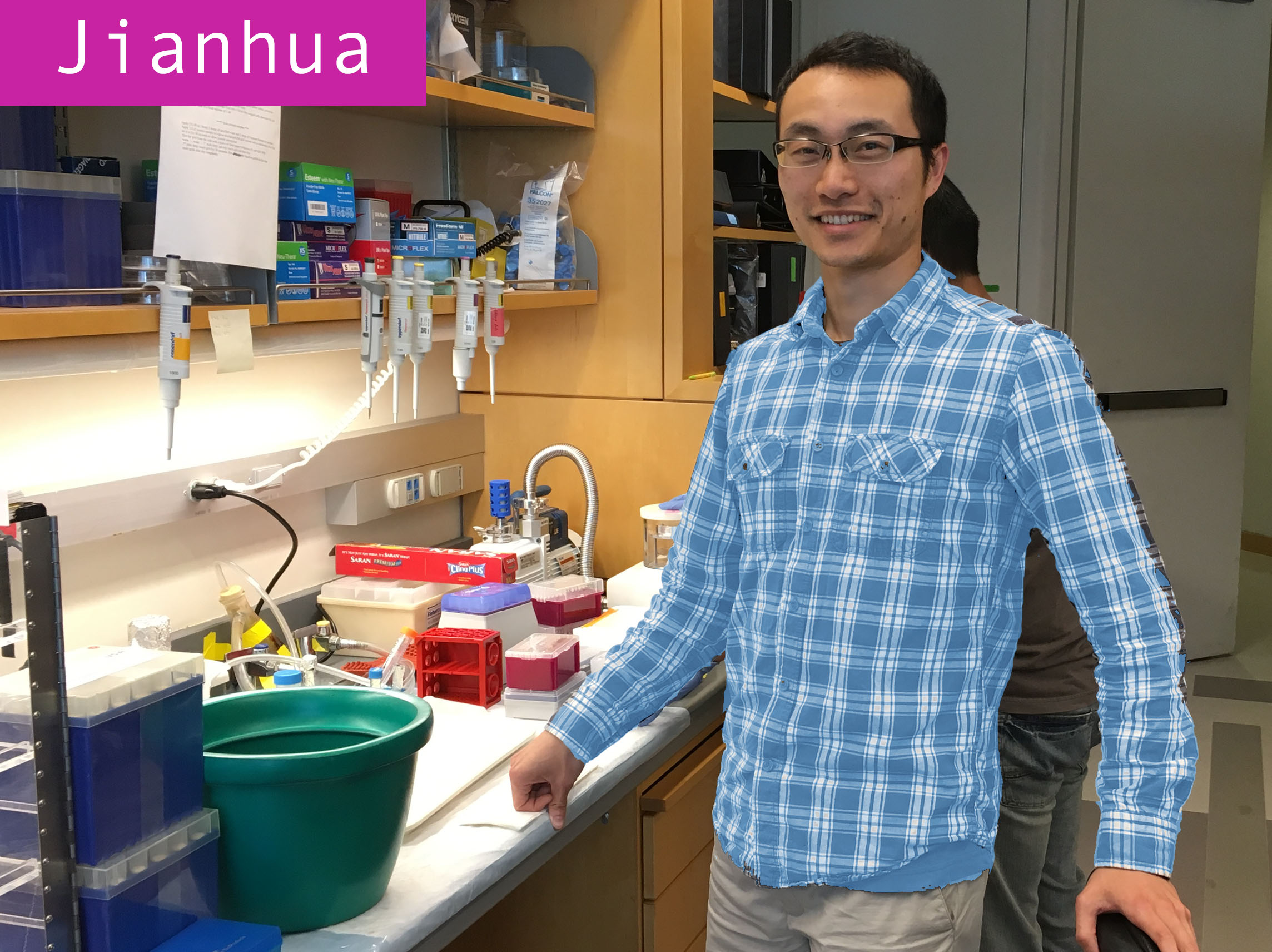 Jianhua Zhao, Ph.D.
Postdoc, Biochemistry and Biophysics 

Kaihua Zhang, Ph.D.
Postdoc, Biochemistry and Biophysics
In the joint lab of Dr. Qiang Zhao and Dr. Beili Wu as a PhD student, Kaihua engaged in structural studies of G-protein coupled receptors related to cardiovascular diseases at Shanghai Institute of Materia Medica, Chinese Academy of Sciences. He successfully determined the crystal structures of purinergic receptor P2Y12 bound to its antagonist and agonist at high resolution, respectively. 
Kaihua has been working on structural dynamics of membrane proteins particularly like TRP channel via single particle cryo-EM during postdoc period. He feels really excited about visualizing the progressive states of protein behavior in lipid systems under different conditions
Supported by a Human Frontier Science Program fellowship
Junrui got his Ph.D degree in Computational Biology from the University of Chinese Academy of Sciences. After graduation, he worked as an IT manager of CryoEM facility in National Center for Protein Science Shanghai for 4 years, where he realized how methods can revolutionize this field and hoped to contribute a little bit to the cryoEM community in terms of method development.
Junrui works on restoring missing information from maps or micrographs. Preferred orientation causes missing cones in Fourier space and CTF dumps information when it crosses zero. He tries to adopt some methods using priors and proper constrains to recover the missing part. Sounds like a free lunch, right? Hope it's not too expensive.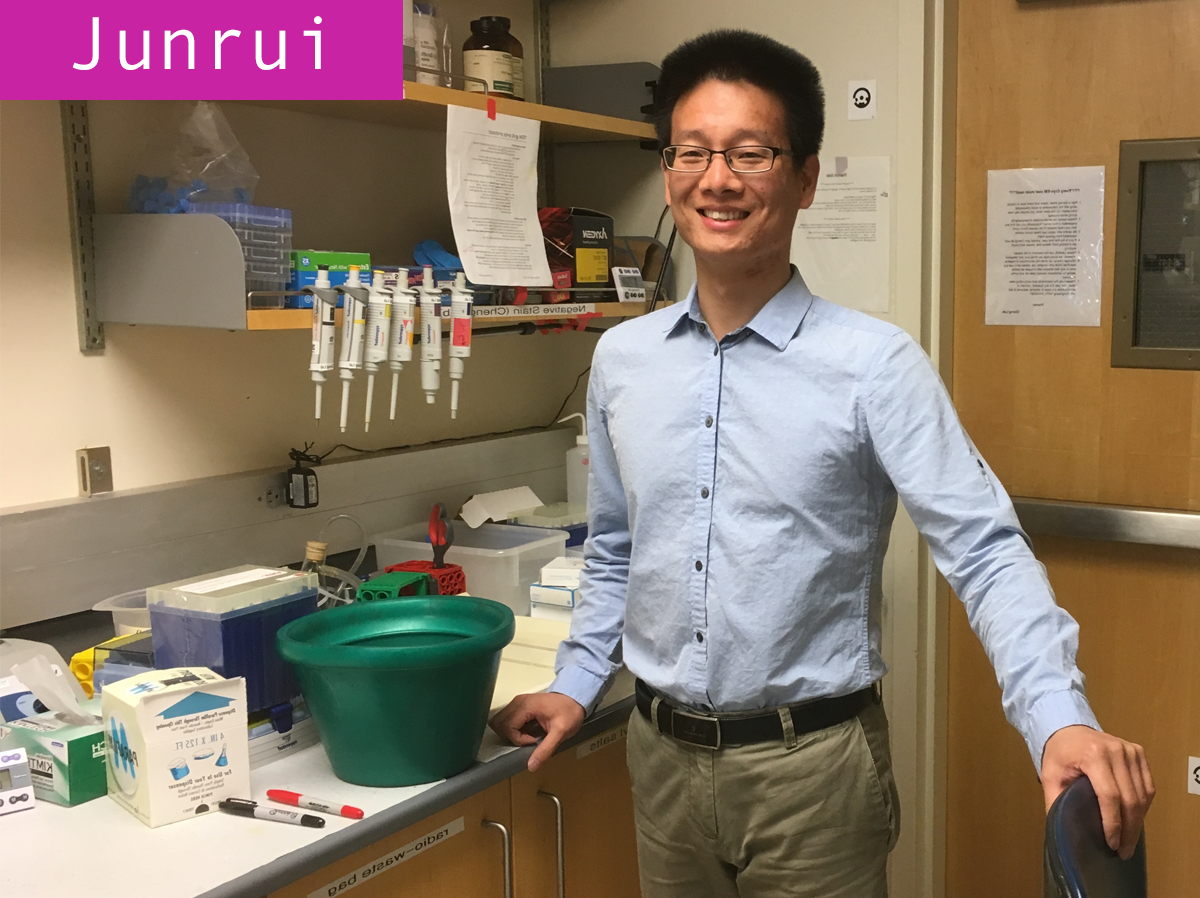 Junrui Li, Ph.D.
Postdoc, Biochemistry and Biophysics 
William Arnold, Ph.D.
Postdoc, Biochemistry and Biophysics
Will background 
Will research interest
Supported by the National Institute of Health's IRACDA program 
Contact
Cristina earned her B.S in Biotechnology at the Polytechnic University of Valencia (Spain). She went on to work for 2 years on the biophysical characterization of antibody-antigen interactions at Janssen Pharmaceuticals (Leiden, The Netherlands). As a PhD student in the lab of Dr. Gabriel Lander at The Scripps Research Institute (La Jolla, CA), she used single particle cryo-EM to study the mechanism of action of ATP-dependent protein degradation machines that are essential for protein quality control.
Cristina's research focuses on TMEM16s, a family of transmembrane proteins that function as ion channels and lipid scramblases. She is also studying how potent inhibitor and activator molecules with therapeutic potential against cancer impact the conformational landscape of these proteins. Ultimately, she aims to establish the molecular basis for how TMEM16s are activated in response to different stimuli in cells.
Supported by a Damon Runyon Postdoctoral Fellowship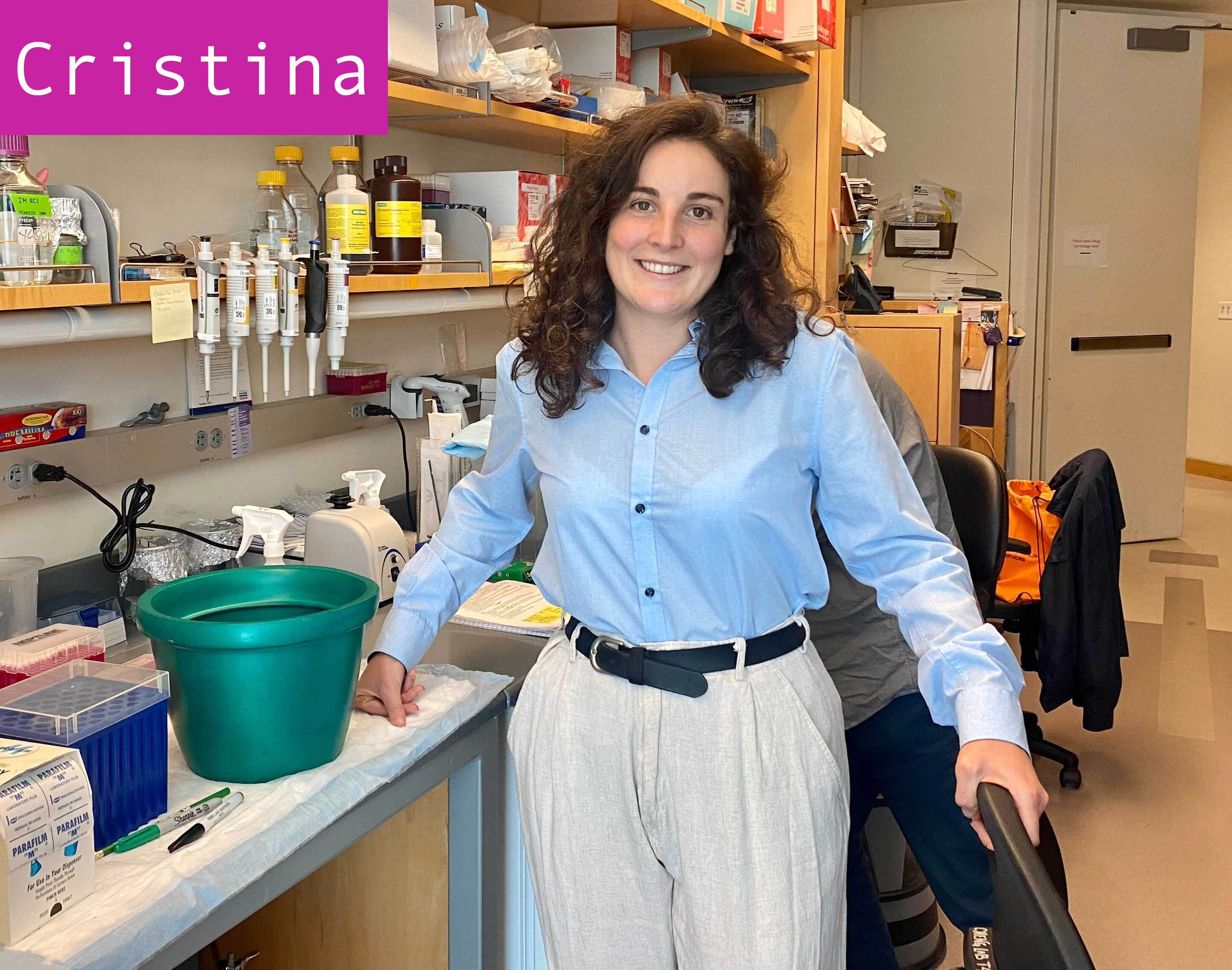 Cristina Puchades, Ph.D.
Postdoc, Biochemistry and Biophysics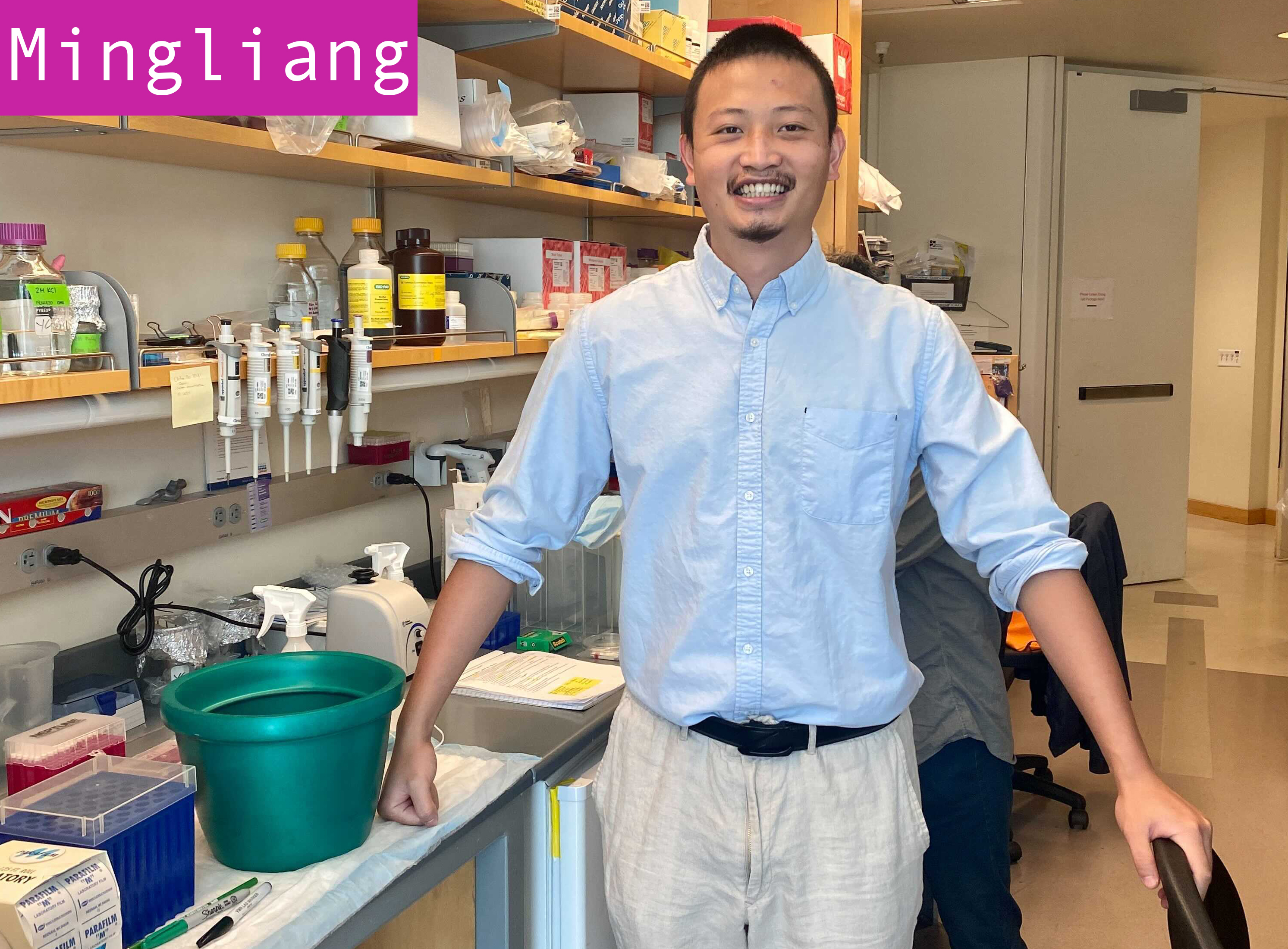 Mingliang Jin, Ph.D.
Postdoc, Biochemistry and Biophysics
MJ earned his B.E. degree of Bioengineering at China Pharmaceutical University and then a PhD in biochemistry and cell biology in the lab Dr. Yao Cong at SIBCB (Shanghai Institute of Biochemistry and Cell Biology, University of Chinese Academy of Sciences). There, he used cryoEM, to determine the structures of chaperonin TRiC at various nucleotide states in different conformations from closed to open states, to reveal a thorough picture of conformational transitions during TRiC's ATP consumption for protein folding. In addition, he had some collaborations, including GPCR, using cryoEM.
He is interested in the conformational change of protein complex during function, as well as using different methods to solve this problem.
Hao received his bachelor's degree in State Training Base of Life Science and Technology from Lanzhou University, after which he started his PhD in Prof. Ning Gao's lab at Tsinghua University. Hao has solved the structures of ISWI, RSC and ODA, central to both these projects was determining the function of large, ATPase-based complexes using single-particle cryo-EM.
Hao will collaborate with Geeta Narlikar's lab at UCSF to study chromatin remodelers, which utilize the energy of ATP hydrolysis to slide nucleosomes and play key roles in nucleic acid-related cellular processes. Hao will also try to use cryo-EM to determine the structures of some membrane proteins.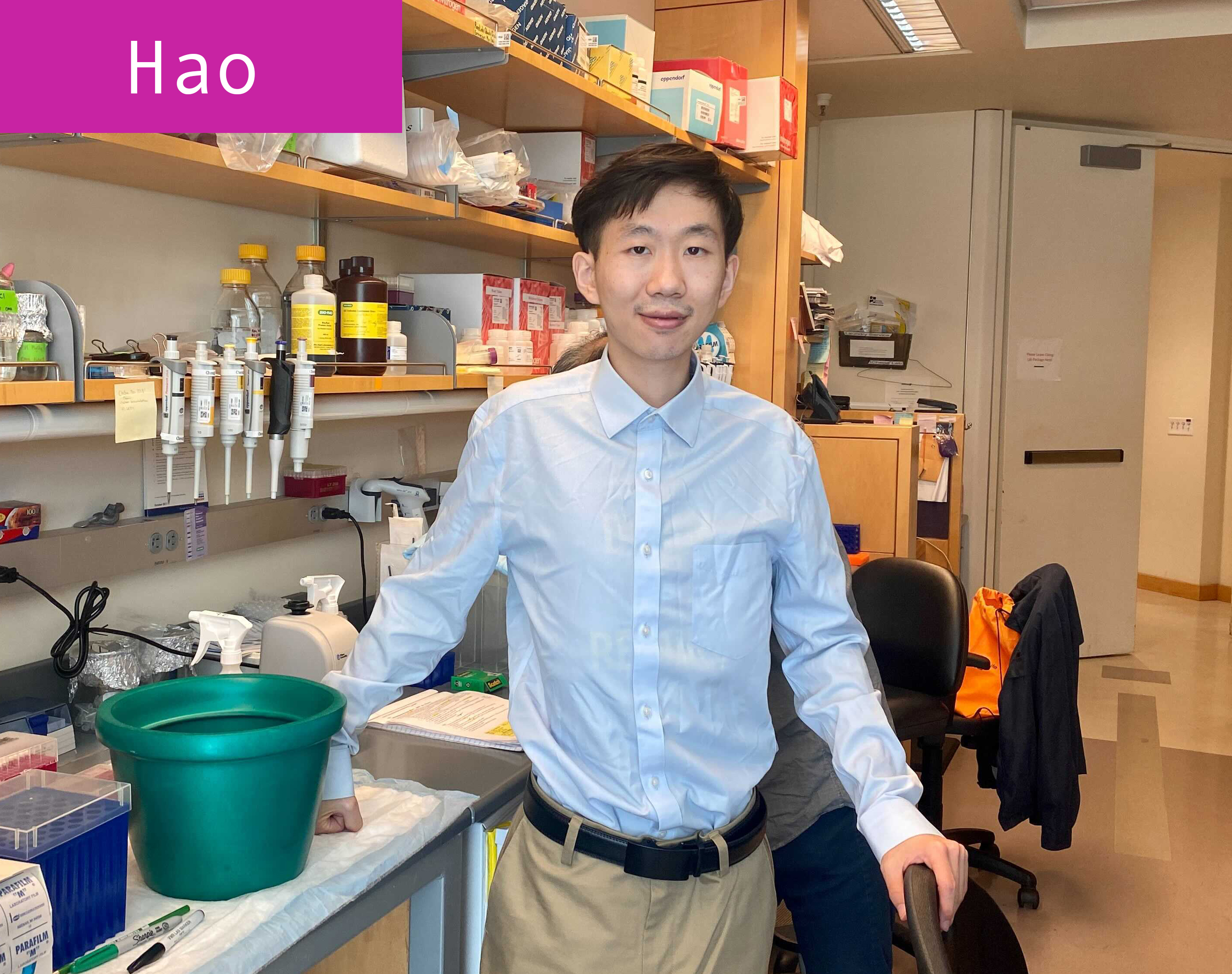 Hao Wu, Ph.D.
Postdoc, Biochemistry and Biophysics
Staff Scientists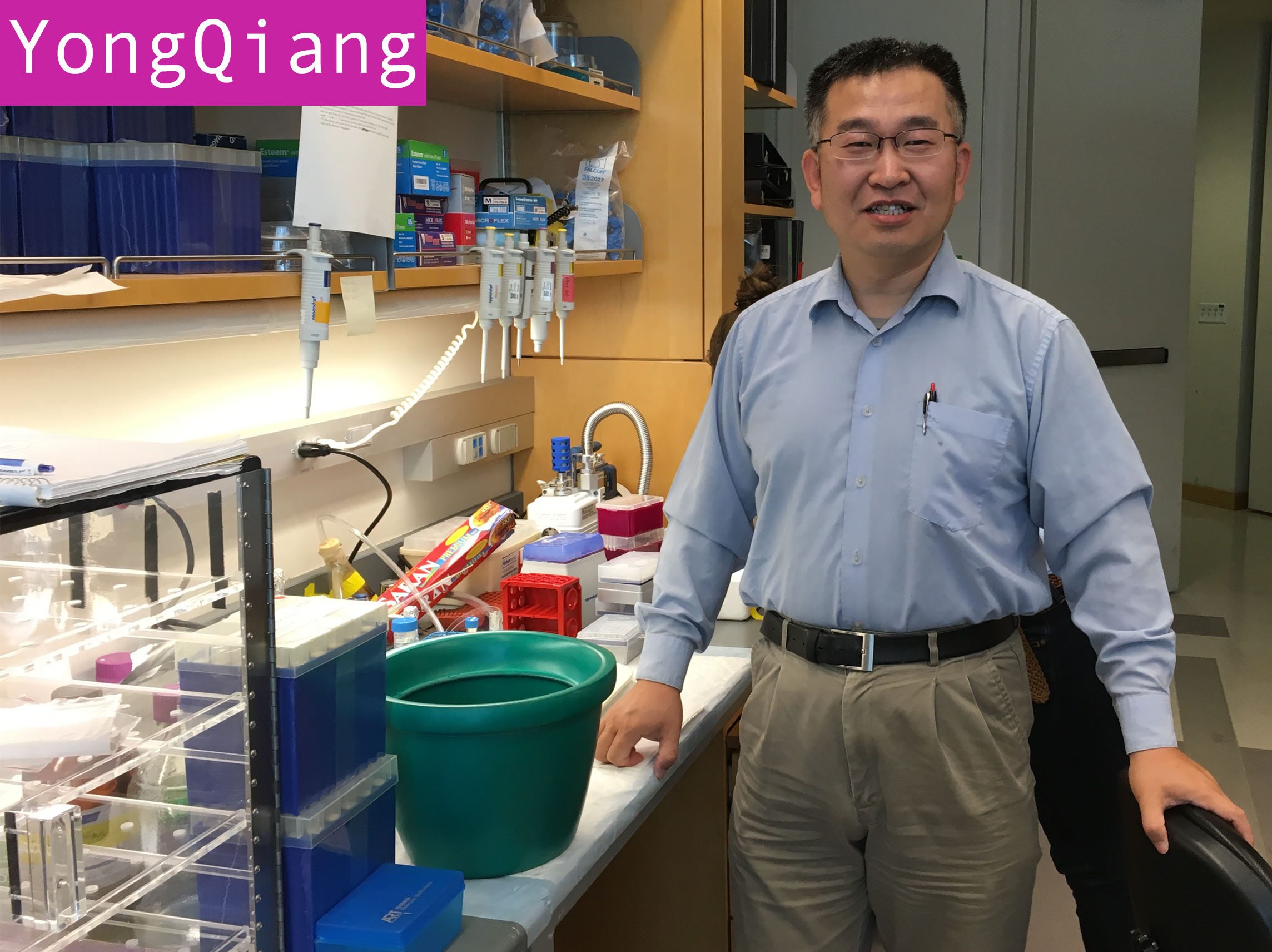 YongQiang Wang, Ph.D.
Lab Manager, Biochemistry and Biophysics
John background 
John research interest
Contact
Zanlin earned his Bacholar of Medicine in the major of Medical laboratory tests and analysis at Shanghai Jiaotong University School of Medicine, then worked in the department of lab medicine at Yueyang hospital affiliated to Shanghai Univesity of Chinese traditional medicine. Zanlin earned his Master of Science and Doctor of Philosophy degree in the Department of Biology, Technion-Israel Institute of Technology, under the supervision of Prof. Michael H.Glickman and Dr. Elah Pick. There, he studied biochemistry and biophysics to study the proteasome characterization and its step-wise assembly.
He is interested in the studies on determining the structures of protein complexes and their conformational changes, physiological beta-amyloid structure determination and grid-tech development.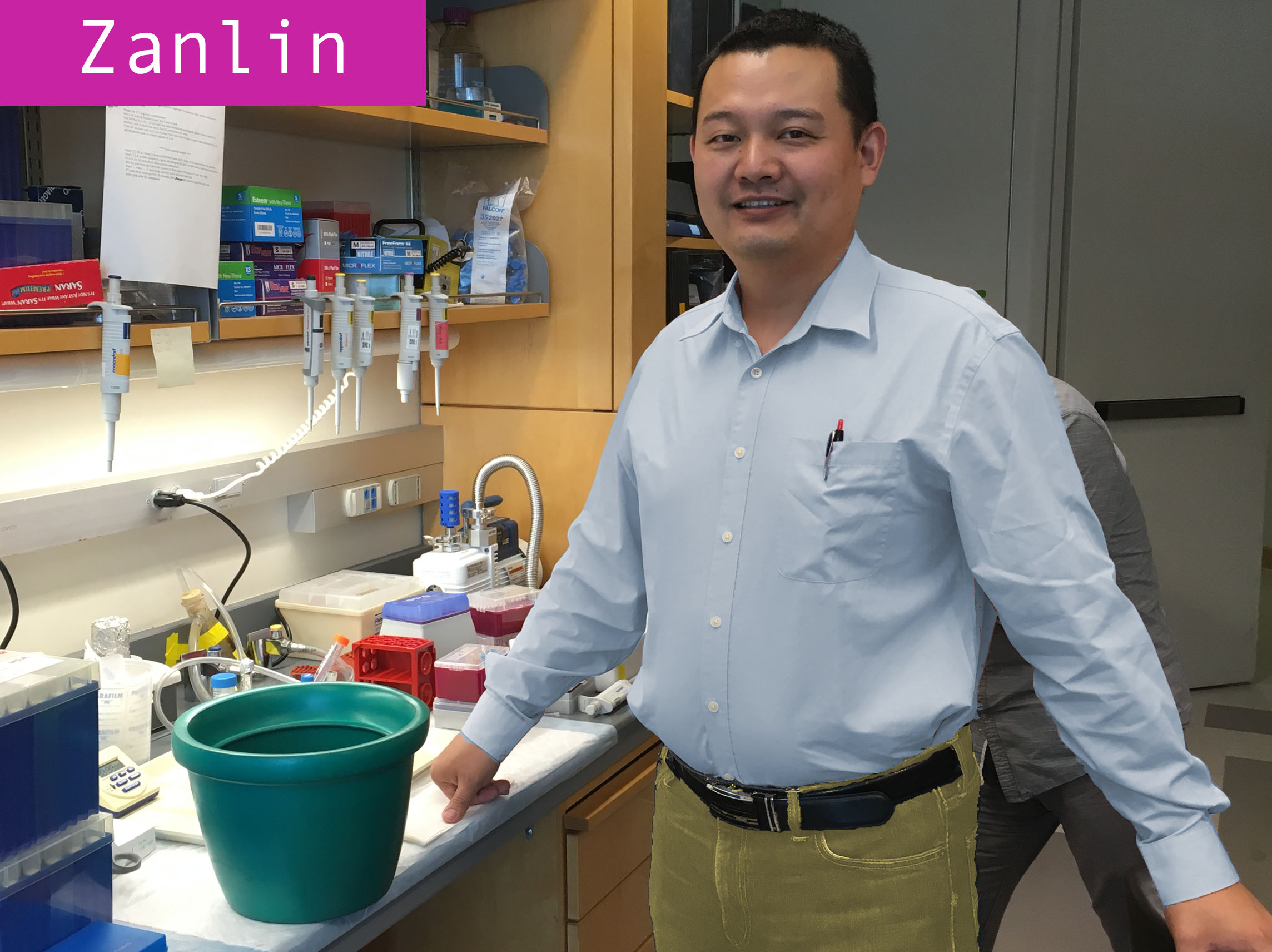 Zanlin Yu, Ph.D.
Associate Specialist, Biochemisty and Biophysics